Spectrum Chemical has the right chemistry backed by quality control.
Our quality control team of more than 30 chemists and technicians perform over 20,000 tests each year in our ISO 9001-2015 in-house, certified testing facilities in California, New Jersey and Shanghai. This ensures safe ingredients for pharmaceutical and biopharmaceutical products.
Our New Brunswick, NJ Corporate headquarters contains 200,000 sq ft of manufacturing, laboratory and warehousing space. This facility features CFR 210/211 cGMP biopharma standard packaging capabilities and is FDA registered. This facility is also the site of our Pharmacy Division, Spectrum Pharmacy Products.
With over 125,000 sq ft of manufacturing, laboratory and warehousing space, our ISO 9001-2015-certified Gardena, CA facility is also FDA and DEA registered.
---
Tests routinely performed in our quality control laboratories:
Instrumental Analysis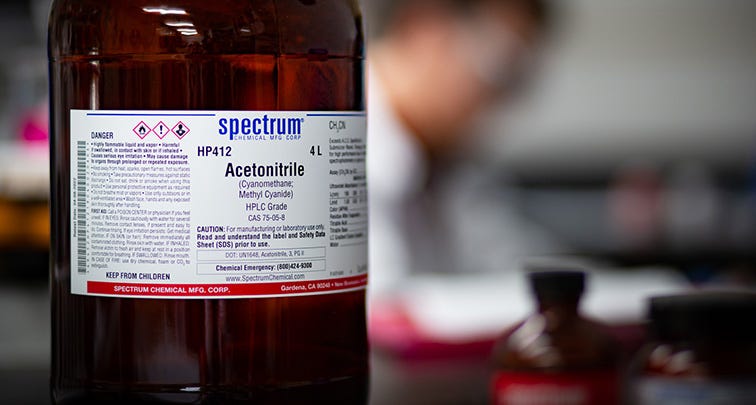 Atomic Absorption

FTIR

Fluorescence

Gas Chromatography

HPLC/UHPLC

ICP/MS (Trace elemental analysis: compliance with USP <232>/<233>)

Potentiometric Measurements (pH and ISE)

More: Proteomic Imaging, Refractive Index, Rotational Viscosity, Specific and Optical Rotation, UV/Vis Spectroscopy, Melting Point, Karl Fischer Titration
Microbial Testing (Biopharma)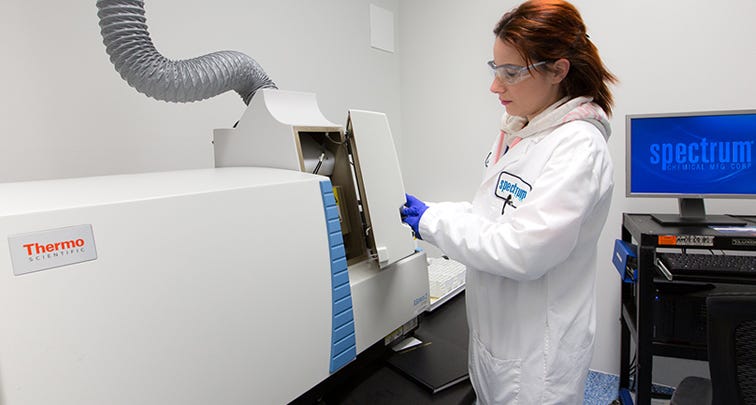 Differentiate Bacterial Colonies

DNase

RNase

Protease

Endotoxin by LAL

Total Plate Count

Yeast and Mold

Specified Organisms
Wet Chemistry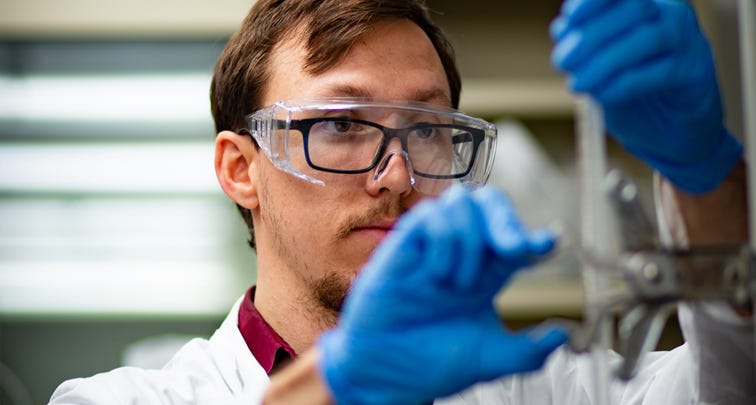 Residue on Ignition

Loss on Drying

Heavy Metals

Iodine Value

Residue on Evaporation

Colorimetric Analysis

Gravimetric Analysis

Solvent Extraction Techniques


Titrimetry (Acidimetric, Complexometric and Redox)
---
Scientific Documentation - So Much More than a CofA​
Spectrum offers over 600 professionally prepared dossiers on its USP chemicals available for download. This documentation is essential for pharmaceutical manufacturers, and specific products that require special testing/certification for bioburden, elemental impurities or endotoxins. Spectrum offers more than a dozen standard tests and certifications and can provide custom testing upon request. Providing such documentation on downstream production chemicals and materials used during pilot and scale-up phases mitigates manufacturer's financial and market risk by avoiding down time, or sourcing issues as a product moves through the development process.
---
Extensive Scientific Documentation and QC Support
Product Specification​

Safety Data Sheet​

Manufacturing Process Flowchart​

Certification of Quality Management Systems​
Product BSE/TSE Statement​

Product Allergen Statement​

Product Aflatoxin Statement​

General Label Information​
Product Certificate of Analysis Sample​

General Lot Numbering System Guidance​

Stability/Shelf Life Guidance​

Kosher and Halal Statements
---
Make Spectrum Chemical part of your Quality Management System

Customer Needs
Eliminate unpredictability​

Reduce reworks​

Speed time to market​

Prevent product inconsistency ​

Ensure reliable performance​

Streamline product onboarding ​

Address formulation-related questions​

Conduct audits and review audit reports 
QC Program Delivery​
Documented process and technical support to address non-conformance​

Change control, product specifications management, supply chain transparency ​

QA "ticket" process to identify and address documentation or production issues among suppliers​

Lead time management  ​

Custom packaging




bioCERTIFIED™ Quality Management System & Chemicals
Complete lot analysis including tests for endotoxin, bioburden and elemental impurities

Comprehensive regulatory and scientific documentation

Change control, batch traceability and supply chain transparency

Extensive product breadth and packaging flexibility
Quality Matters:  Regulatory Compliance and Auditing​
Spectrum makes an ongoing effort to make compliance as easy as possible. Customers seeking to purchase sensitive, regulated or controlled items will be asked to provide appropriate credentials. For some products, we will request additional intended use information to meet regulatory or product stewardship obligations. Please help us to ship your order as soon as possible by providing required information and document expeditiously. 
Spectrum Chemical hosts audits for customers.  Please contact our Quality Assurance department to arrange an in-house or virtual audit.
Quality Assurance: quality_assurance@psincremodeling.com
USA / Canada: 1-800-772-8786